PEOPLE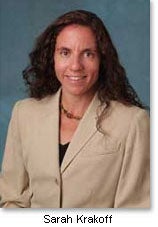 Associate Law Professor Sarah Krakoff has been appointed associate dean for research at the University of Colorado at Boulder Law School.
Krakoff succeeds Professor Phil Weiser, who has taken a leave of absence to serve as deputy assistant attorney general for international, policy and appellate matters at the U.S. Department of Justice's Antitrust Division.
In announcing the appointment, law school Dean David Getches said Krakoff has already started planning colloquia, workshops and related activities, and plans to issue an agenda for the year ahead. He also thanked her for "taking on this important role in the intellectual life of the school."
Krakoff teaches natural resources law, civil procedure and Indian law. She earned a bachelor's degree at Yale University and a law degree from the University of California at Berkeley.