PEOPLE
Saliman earns honors from Denver Business Journal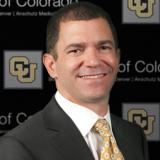 Todd Saliman, vice president for budget and finance and chief financial officer, was named a finalist for the Denver Business Journal's 2017 Top Financial Executive awards.
The publication honored executives who are charged with oversight of their institution's financial planning, reporting and compliance, regardless of their official titles. Nominees were judged for business leadership, accomplishments they helped their company achieve, innovation and their community involvement.
An expert panel selected 10 finalists, who were honored April 27 at an awards luncheon at The Curtis Denver, where Michael Kehoe, PCL Construction, was named the Top Financial Executive of the Year.
Read more on Saliman at the Denver Business Journal.