PEOPLE
Russell Moore and John Stevenson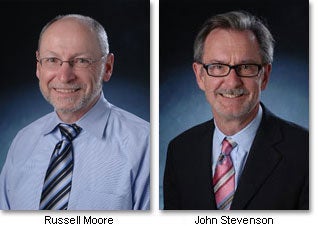 The University of Colorado at Boulder has named Russell Moore interim vice chancellor for research and John Stevenson interim dean of the graduate school.
Stein Sture, the campus's interim provost, announced the appointments on Tuesday. Previously, Sture held both positions before succeeding Chancellor Phil DiStefano as provost on May 15.
In a statement, Sture said it was important for the two positions to be separate under the Flagship 2030 Strategic Plan because "each designated responsibility is large enough and important enough to demand its own full-time post."
Moore has served as associate vice chancellor for research since 2006. He was a co-chair of the CU-Boulder Flagship 2030 Task Force on Research, Scholarship and Creative Work, and is a professor in the campus's integrative physiology department.
Stevenson has spent his entire academic career at CU-Boulder as a professor in the English department. He served as chair of the Flagship 2030 Task Force on Graduate Education, and has been associate dean of the graduate school and associate vice chancellor for graduate education since 2005.