PEOPLE
Rumack to receive honor from American College of Radiology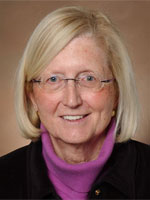 Carol Rumack, School of Medicine professor of radiology and pediatrics and associate dean for graduate medical education, will receive the Gold Medal from the American College of Radiology in April in Washington, D.C.
The award recognizes individuals for distinguished and extraordinary service to the ACR or to the discipline of radiology. Rumack is only the seventh woman to receive this award, which has been bestowed 181 times in the past 100 years. Among the six women who have previously received the Gold Medal are Nobel Prize winners Marie Curie and Rosalyn Yalow.
The Society for Pediatric Radiology honored Rumack with its Gold Medal in 2011. And in 2009, she was awarded the American Roentgen Ray Society Gold Medal.
Rumack's research interests include newborn brain imaging, diagnosis of child abuse and neonatal imaging particularly ultrasound.