PEOPLE
President's Teaching Scholars talk collaboration, meet with president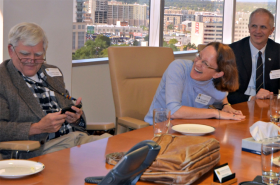 The President's Teaching Scholars Program recently presented two special events where member scholars from across the CU system gathered.
The program's annual fall retreat took place at CU-Boulder. Meeting under the theme of "Collaboration and the Forces of Change," the scholars discussed their own projects and spoke with CU-Boulder Provost and Executive Vice Chancellor Russell Moore. Speakers included Raphael Sassower, UCCS professor of philosophy and one of this year's new President's Teaching Scholars.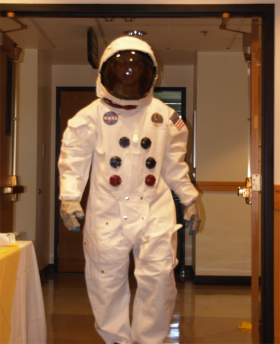 Another of this year's class – Lisa Keränen, associate professor and director of Graduate Studies in the Department of Communication, College of Liberal Arts and Sciences, CU Denver – was among the scholars at 1800 Grant St. earlier this month for a get-together with President Bruce Benson. Sassower and the third of this year's new scholars, CU-Boulder's Helen Norton – associate professor and associate dean for Academic Affairs, University of Colorado School of Law – had conflicts and were unable to attend.
Read more about this year's President's Teaching Scholars.