PEOPLE
Orr named interim head of Colorado Shakespeare Festival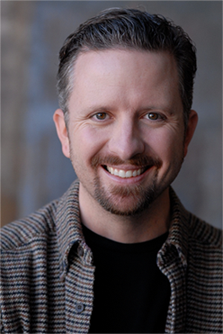 Timothy Orr has been named interim producing artistic director of the Colorado Shakespeare Festival, effective Feb. 1. He will replace Philip Sneed, who has accepted a position as executive director at the Arvada Center for the Arts and Humanities.
Orr has served as associate producing director at CSF since March 2011. He has worked as an actor with the company since 2007.
"Philip and I have been co-planning the 2013 season from the very beginning, so I anticipate a seamless transition into the festival season," Orr said. "I'm extremely proud and happy for Phil as he moves in to his new position at such a respected arts organization as the Arvada Center."
Orr helped create the Colorado Shakespeare Festival's highly successful Shakespeare in the Schools' anti-bullying program and started the CSF School of Theatre, now in its second year. He will direct "The Complete Works of William Shakespeare (Abridged)" for CSF this summer.
"We look forward to working with Mr. Orr in this new capacity and to the success of the 2013 season," said Steven Leigh, dean of the College of Arts and Sciences.  "We wish Mr. Sneed the best in his new position."
Prior to coming to the festival, Orr performed as an actor at numerous theaters in California and was a resident artist with the Foothill Theatre Company, where he created more than 20 roles onstage while writing, composing and producing plays with artists from around the world. He also was general manager of the Sacramento Ballet, producing the company's first international tour to China.
He has taught classical acting, voice and musical theater at the University of California at Davis and the University of Colorado Boulder and was a faculty member at the Berkeley Repertory School of Theatre in California. He holds degrees in music and arts management from Cal State Sacramento, a master's in theater from UC-Davis, and was a fellow with the League of American Orchestras.
Sneed, who came aboard as producing artistic director in 2006, brought the festival to new creative heights, including the addition of highly praised non-Shakespeare productions such as 2009's "To Kill a Mockingbird."
"We're going to miss Philip," said Kathryn Keller, president of the Colorado Shakespeare Festival advisory board. "He really took the festival to new levels of international recognition."
Geoffrey Kent, member of the CSF resident acting company, will replace Sneed as director of this summer's production of "A Midsummer Night's Dream."
Tickets are now available for the 2013 summer season, which also includes "Macbeth," "Richard II" and an exclusive, two-performance engagement of Tina Packer's "Women of Will: The Overview." Packer's exploration of Shakespeare's women characters will open on Broadway this summer and the full, five-play cycle won rave reviews during the 2012 season.