PEOPLE
Nesbitt nominated for prestigious ATHENA Leadership Award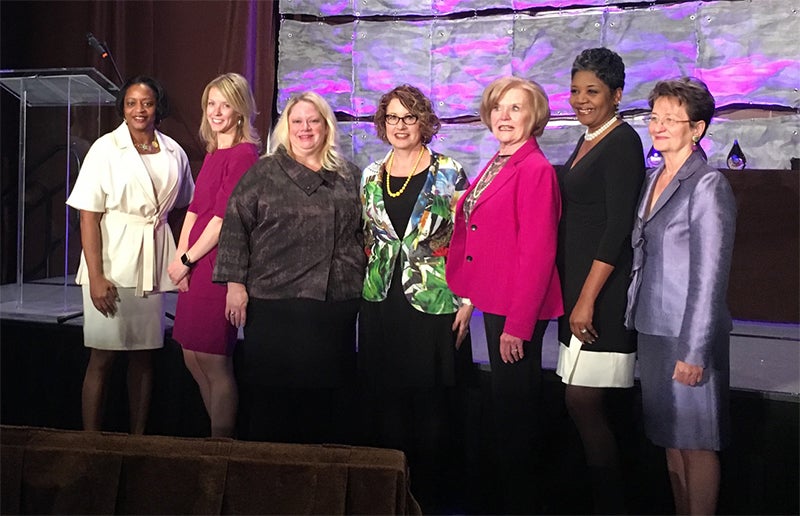 Kathy Nesbitt, vice president of employee and information services, recently was nominated for an ATHENA Award and honored at the ATHENA Leadership Award luncheon.
The ATHENA Leadership Award honors Colorado women who exemplify exceptional professional achievement, devotion to community service and generosity in actively assisting other women in their attainment of professional excellence and leadership skills.
The 20th annual ATHENA Leadership Award Luncheon and Conference, presented by the Colorado Women's Chamber of Commerce, was April 12 at the Ritz Carlton in Denver.
This year's recipient of the award, Jean Galloway, accepted it from Kristen Blessman, CEO of the Colorado Women's Chamber of Commerce and Women's Leadership Foundation, and Dorothy Horrell, CU Denver chancellor, who received the award last year. Since the program's inception in 1982, more than 7,000 exemplary leaders in over 500 communities have received the prestigious ATHENA Leadership Award.
Before coming to CU in 2014, Nesbitt served in a variety of public and private sector positions. She served as Gov. John Hickenlooper's chief personnel director, human resources director for Kaiser Permanente, staff attorney for the Mountain States Employers Council, and an attorney for Qwest Communications. She is an alumna of CU Boulder and also completed the Executive Program at Harvard's Kennedy School of Government.