PEOPLE
Mueller receives award for work in workers' compensation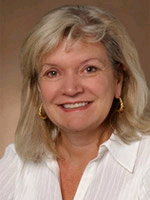 Kathryn Mueller, the Division of Workers' Compensation's Medical Director and professor in the School of Medicine Department of Emergency Medicine and Colorado School of Public Health, has been recognized by the International Association of Industrial Accident Boards and Commissions (IAIABC) with its prestigious Frances Perkins Award.  IAIABC is the world's oldest trade association dedicated to promoting the advancement of workers' compensation systems through education, research, and resource management.
In a statement, IAIABC said that Mueller was being honored for her more than two decade-long career as the Medical Director at the Colorado Division of Workers' compensation.  Her work ensured that Colorado became one of the first states to adopt evidence-based medicine treatment protocols.  In addition, "Dr. Mueller continues her work by assisting other states in understanding the implementation and management of treatment guidelines. Her work helps support high quality medical care for injured workers across North America."
The Frances Perkins Award is given to an individual, usually in government, who best exemplifies the traits of the award's namesake. Perkins' groundbreaking work led to the establishment of the nation's first minimum wage, overtime and child labor laws.
"I am honored to join the distinguished group of previous award winners and to be recognized by my peers," Dr. Mueller said. "I am proud of my long-standing involvement in the workers' compensation system and plan to continue to contribute to the health of Colorado's workers. I am delighted to receive this award; however it truly belongs to everybody who has helped build a system in which Colorado can take a lot of pride."