PEOPLE
Mintken honored for excellence in teaching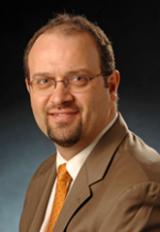 Paul E. Mintken, associate professor of physical therapy in the Department of Physical Medicine and Rehabilitation at the University of Colorado School of Medicine, recently received the American Physical Therapy Association's Dorothy E. Baethke-Eleanor J. Carlin Award for Excellence in Academic Teaching.
The award was presented during the association's NEXT Conference & Exposition in Maryland in June. The Dorothy E. Baethke-Eleanor J. Carlin Award spotlights individuals who have made significant contributions to physical therapy education through excellence in academic teaching.
Mintken coordinates and teaches the musculoskeletal track for the doctor of physical therapy program at CU and is affiliated with Student Health on the Boulder campus. His teaching style has been described as highly skilled, respectful, compassionate, and patient.