PEOPLE
In memoriam: Jim Carrigan, former regent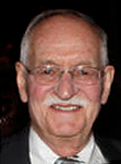 Jim R. Carrigan – a former U.S. Federal District Court Judge and Justice of the Colorado Supreme Court, as well as a former member of the CU Board of Regents – died Aug. 15, 2014, in his Boulder home surrounded by his devoted wife, Beverly and his loving family. He was 84.
Jim was born Aug. 24, 1929, in Mobridge, South Dakota, the son of Michael Leo and Mildred Ione (Jaycox) Carrigan. He and his four siblings grew up in Hallock, Minnesota, where his father ran a bakery.
Jim graduated from the University of North Dakota, Grand Forks, with a bachelor's degree in philosophy and a law degree in 1953. He graduated first in his law school class, was awarded Order of the Coif and Phi Beta Kappa. He was president of the student body of the university and editor in chief of the law review. After briefly practicing law in Williston, North Dakota, he attended New York University where he received an L.L.M. in tax law in 1956. By age 25 he was an assistant professor of law at NYU.
While living in New York City, Jim met the love of his life, Beverly Jean Halpin. The story of their meeting has been a wonderful family story. Beverly had recently received a master's degree in social work from Fordham University. After a wonderful courtship in New York City, Jim and Beverly were married June 2, 1956, in Los Angeles.
In addition to NYU, Jim was a law professor at the University of Denver, the University of Washington-Seattle, and the University of Colorado Boulder. He served as Judicial Fellow in Residence and lecturer at law schools throughout the country. He twice taught at Oxford University and taught and conducted seminars in Taiwan, Zambia, Jamaica and Croatia. He served as administrator for the state of Colorado Judicial Department and was instrumental in developing Colorado's judicial merit selection system.
In 1963, Jim and Beverly moved their family from Denver to Boulder. They lived in Table Mesa and, in 1969, completed construction of their dream home on a mesa just below the Flatirons and Bear Peak. The home remains in the family and the six Carrigan children were raised there. This property was the site of many large gatherings of family and friends through the years. In the summer Jim would always give a visitor a special tour through the beautiful flower gardens, featuring numerous fruit trees, grape arbors, a raspberry patch and, often, wildlife viewing.
Jim had a respected career as one of the pre-eminent plaintiff attorneys in Colorado. His practice led to many Colorado cases protecting those injured due to the negligence of others. He was a firm believer in justice for all and sticking up for the "little guy."
Jim loved the University of Colorado and the Buffaloes. He was elected a regent of the university in 1974.  He received Honorary Doctor of Law Degrees from the University of Colorado, University of North Dakota and Suffolk University Law School. Jim was extremely proud that his children and grandchildren hold seven degrees from CU. (So far).  He was honored that one of the mock trial competitions at CU Law is named for him ("The Carrigan Cup"), as is the teaching courtroom in the new law school.
In 1976, Gov. Richard Lamm appointed Jim as an associate justice of the Colorado Supreme Court. In 1979, President Jimmy Carter appointed him as a federal district judge for the judicial district of Colorado. In 1995, Judge Carrigan assumed senior status on the court and subsequently he joined the Judicial Arbiter Group of Denver where he arbitrated and mediated significant cases around the country and around the world. He also served as the Boulder County representative to the Metropolitan Football Stadium Board when the new Broncos stadium was built.
He received countless awards, too numerous to list. He was particularly proud of being one of the founders of the National Institute for Trial Advocacy as well as the National Judicial College in Reno, Nevada. The University of North Dakota's mock trial competition is also named in his honor. He helped found St. Martin de Porres Catholic Church in Table Mesa. He volunteered at numerous positions in politics and law as well as with Samaritan House in Denver and the St. Thomas Aquinas Catholic Church food bank.
There is no doubt that Jim's proudest achievement was his loving marriage of over 58 years to his wife Beverly, who  survives him, as do their six children: Sheila P. Carrigan (husband Marlin Buse) of Boulder; Maura M. Christoph (husband James) of Boulder; Patrick F. Carrigan (wife Arlette Julian Carrigan) of Boulder; Kathleen M. Carrigan of Longmont; Andrew O. Carrigan  (wife Janel) of Fresno, California;  and Michael J. Carrigan (wife Sarah Dotson Carrigan) of Denver. He is also survived by his 12 adored grandchildren, ages 5 to 24, to whom he will always be "Hi-Paw" and "The Toe Fish." They are Brandon Carrigan Buse and Pari Buse; Gretchen and Nicholas Christoph; Quinn, Cole and Delaney Carrigan; Patrick Hardy; Kylie and Keone Carrigan; and Elizabeth and Daniel Carrigan. He is also survived by his sister, Norma Cresien of Federal Way, Washington, as well as numerous nieces and nephews and countless friends.  He was pre-deceased by his parents, his sisters Patricia Rustad and Virginia Ducharme and his brother Michael Carrigan.
Judge Jim Carrigan was a man of deep Catholic faith, profound intelligence, reverence for nature and sparkling wit. He had an enduring love of literature, poetry and all things Irish. He believed in the inherent goodness of people, that everyone deserves a second chance and in equal rights and justice for all people. He and Beverly loved to garden, feed the birds at their house on the hill, spend time in their swimming pool, entertain family and friends and travel the world together. His children are grateful for his unconditional love and support, the fact that he provided them with excellent educations and for the important values he taught every day of his life. He was an incurable romantic, loved a horrible pun and delighted in the accomplishments of his large family as well as his numerous law-clerks and staff whom he considered his honorary children. His wit, cleverness, empathy, compassion and intelligence are legendary in Colorado's legal community. He was a class act who lived the American dream but never lost his humility or forgot his upbringing in a Minnesota bakery. He had a wonderful life and everyone whose lives he touched is richer for having known him. He will be deeply missed.
The family wishes to thank the devoted caregivers from Safe at Home and Family Hospice who provided so much support during Jim's illness and allowed him to complete his earthly journey in the home he loved so much.
Pursuant to his wishes the family has held a private, traditional Irish wake at the family home and a Mass of Christian Burial at St. Thomas Aquinas Catholic Church.
A memorial service will be at 5:30 p.m. Thursday, Aug. 28, at the University of Colorado Wolf Law Building,  2450 Kittredge Loop Road, Boulder. A reception will follow the service. RSVP here.
Donations in memory of Jim Carrigan's extraordinary life may be made to The Judge Jim R. Carrigan Scholarship at the University of Colorado School of Law, c/o the CU Foundation (designate CU Law-Carrigan Scholarship in memo line) 4740 Walnut St., Boulder, CO 80301 or www.cufund.org/JudgeCarriganFund  or  St. Thomas Aquinas Catholic Church-Harvest of Hope Food Pantry, 2960 Valmont Road, Boulder, CO 80301.