PEOPLE
Marks chosen Denver Business Journal outstanding woman in business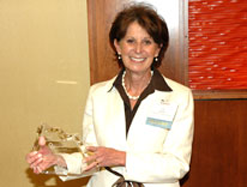 Lilly Marks, vice president of health affairs at the University of Colorado and executive vice chancellor of the Anschutz Medical Campus, received an Outstanding Women in Business award Aug. 16.
Marks received the award in the category of Education, Government and Nonprofits. The 14th annual awards were presented by the Denver Business Journal, and the luncheon drew several hundred business leaders to the downtown Marriott.
"It's really humbling to be in a group of such remarkable women and to be recognized in that group," Marks said to the audience after receiving her award. "I have really been blessed in my career for the last 36 years to be able to get up every morning and go to work with some of the smartest people on the planet. Every day it is humbling and inspiring to me to work with the faculty, staff and students at the Anschutz campus who are truly changing lives and saving lives."
The campus has a $2.5 billion annual economic impact in Colorado and employs 17,000 people.
Jandel Allen-Davis, a director on the CU Foundation Board of Trustees and part of the School of Medicine's clinical faculty, won the Outstanding Women in Business award in the Health Care category. Allen-Davis is vice president of government and external relations for Kaiser Permanente Colorado.
Some 12 women were recognized in various business categories. The two other finalists in the Education, Government and Nonprofits category were Joyce Schlose of Goodwill Industries of Denver and Becky Miller Updike of Colorado's Office of Child Protection.
In her introduction of Marks, event emcee Brooke Wagner (CBS4 news anchor) noted that Marks in 1991 was named executive director of University Physicians Inc., a nonprofit that handles the business aspects of faculty physicians. During her tenure there until 2011, Marks was able to grow revenue annually and put UPI on solid footing. UPI now helps fund the School of Medicine and is considered a national model for medical school funding. The rest of Marks' professional biography can be read here.
Marks said she gets to "bask in the reflective glory" of the talents of faculty, staff and students at the Anschutz Medical Campus. She noted that they make tremendous contributions daily to the state and nation. "It would be presumptuous for anyone to say that they lead that campus ... but to be in a position to sometimes nudge and facilitate and enhance the work that goes on there is a great honor for me."
She reminded the crowd that none of the assembled leaders would be here without the ability to "stand on the shoulders of other people who have made opportunities available to us." She specifically thanked university leadership -- including Richard Krugman, M.D., dean of the School of Medicine; University of Colorado President Bruce Benson; and University of Colorado Denver Chancellor Don Elliman -- as well as her husband of 42 years, Bob, and two daughters. "Probably the proudest accomplishment in my life, and how I define my success, is the two extraordinary, amazing women who are my daughters."
Elliman said Marks' award is incredibly well deserved. "She's such an asset for the university and such a wonderful leader for us. I can't say enough about that."
Nominees for Outstanding Women in Business were taken online at the DBJ website for more than six months. Four judges reviewed and scored the more than 300 nominations made for 160 individuals.