PEOPLE
MacAulay to serve as first faculty director for Heller Center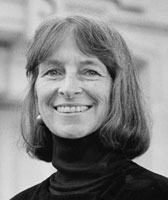 Suzanne MacAulay, professor and chair, Department of Visual and Performing Arts at the University of Colorado Colorado Springs, will serve as the first faculty director for the Heller Center for Arts and Humanities.
In addition to managing the artist/scholar-in-residence program and reviewing and approving the guest house applications, MacAulay will answer classroom-related questions about the Heller Center, review communication materials from the center, and work closely with Perrin Cunningham, the center's curator, as well as other key university staff members.
Several other changes were announced in the operation of the Heller Center to improve its access to the campus and greater Colorado Springs community. Changes included priority scheduling for academic classes for the main house and development of a website.
"I believe that the newly established collaboration between academic interests and curatorial activities offers rich possibilities for fulfilling the creative vision of the Hellers and marking the Heller Center as a node of university as well as public artistic and intellectual engagement," MacAulay said.