PEOPLE
Lore to receive two prestigious awards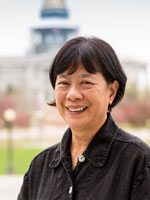 Peggy Lore, assistant vice chancellor of student success at CU Denver, recently was named one of the 2014 Asian American Heroes of Colorado. The award recognizes Asian Americans in Colorado who make a difference in the state's communities and beyond. An awards event is scheduled for May 24; Lore and fellow awardees will be featured in the May issue of Asian Avenue magazine.
"During her tenure at CU Denver, Peggy has been an advocate for student success. In her various roles: Asian American Student Services director, director of New Student Orientation, director of the Academic Success & Advising Center and the Learning Resources Center, and currently as AVC of Student Success, Peggy's dedication to and passion for serving our underrepresented students is unwavering," said Khushnur Z. Dadabhoy, Ph.D., dean of Students and assistant vice chancellor University Life.
As the daughter of a Chinese immigrant, and first-generation to attend college, Lore relates to and understands the challenges that students experience. She is often called upon to be a keynote speaker at campus and community events to share her expertise on how students can maximize their time. For the Asian American community, she is an advocate in raising awareness on the challenges of the model minority stereotypes, the history of Asian Americans in the United States, and rich heterogeneity of the Asian American population and culture.
Colleagues at the university and across the greater community hold Lore in high regard for her knowledge and cultural expertise on the issues including student success, student retention and graduation. She also serves on executive boards related to education, human rights, and Asian American issues such as the Asian Education Advisory Council for Denver Public Schools and the Mayor's Commission on Asian Pacific Americans.
Lore also was honored recently with the 2014 University of Colorado President's Diversity Award in the staff category. This recognition reflects significant achievements by faculty, staff, students, and academic or administrative units in developing a culturally diverse, compassionate university community reflective of inclusive excellence.