PEOPLE
Limerick named Official CU Fool by President Benson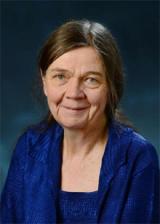 CU-Boulder professor Patty Limerick this week announced the launch of the Center of the American West's Humor Initiative. The choice of date for the announcement wasn't surprising: April Fools' Day.
What might have surprised some is this: a proclamation from President Bruce Benson naming Limerick the Official Fool of the University of Colorado. Read the proclamation here.
The Humor Initiative was created to celebrate those individuals whose temperaments support a central conviction of the Center of the American West: A dose of good humor is essential to constructive public discussion, and not coincidentally, to public health. Its centerpiece is the Distinguished Visiting Fool for a Day Award that will be presented once a year on the CU-Boulder campus. Read more here.