PEOPLE
Leiker named to external relations role at Colorado School of Public Health
Travis Leiker recently was appointed assistant dean of external relations for the Colorado School of Public Health.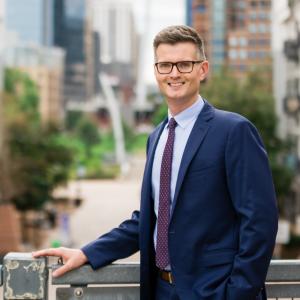 Leiker most recently served as senior director of development in the CU Anschutz advancement office. He has been a member of the CU Anschutz campus community for a decade, holding leadership posts in alumni relations and development.
In his new role as assistant dean of external relations, Leiker will manage and enhance the school's relationships with external constituents, including the private sector, government agencies, community organizations, the media, philanthropic supporters, alumni and more.
In the Office of Advancement, Leiker led a team of development professionals responsible for more than $30 million in public-private-philanthropic partnerships benefiting the CU system. He also was the campus's primary advancement partner in the efforts to pass Colorado Senate Bill 22-172, which established the early phase of the state's Rural Health-Care Workforce Initiative. In recent years, he helped refine financial management strategies for more than $25 million in funding, expanded campus capacity to invest in EDI initiatives and scholarships, boosted faculty support for programs like pediatric hematology and nurse education, and built stronger relationships with health sciences alumni throughout the U.S. Other professional experience includes work in local and state policy making, civic engagement, and issue-based advocacy work.
Leiker holds a bachelor's degree in political science and a master's degree in public administration, both from CU.