PEOPLE
LAS Lasting Legacies Lecture to honor Wynn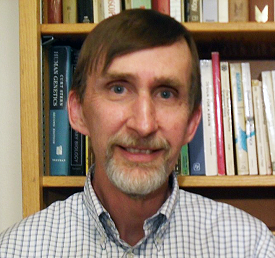 Tom Wynn, professor, Department of Anthropology at UCCS, will begin a new campus lecture series that honors retiring faculty members with a presentation, "The Mosaic of Cognitive Evolution," at 11:30 a.m. Friday in the University Center Theater. Wynn, a 36-year member of the faculty, plans to retire next fall. The LAS Lasting Legacies Lecture will allow retiring faculty to talk about the subjects that bring them passion.
"Dr. Wynn loves his work," said Peter Braza, dean, College of Letters, Arts and Sciences. "We all – the field of archeology as a whole and especially our students – have been the beneficiaries of his dedication and uncanny ability to advance the study of cognition in relation to the study of mankind's origin."
Wynn's 30-minute lecture, to be followed by questions from the audience, will focus on evolutionary studies and, specifically, human cognitive evolution. He'll discuss how some human abilities evolved long ago while some were only recently acquired. These theories were published in a 2012 book Wynn co-wrote with Fred Coolidge, professor in the Department of Psychology, titled "How to Think Like a Neandertal."
Wynn joined the faculty in 1977. He was hired after he completed his Ph.D. at the University of Illinois, in part, because of his ability to teach courses in both archaeology and biological anthropology. He recently estimated he taught Human Origins, a biological anthropology course, 100 times during his career.
He is credited with establishing the UCCS archaeology curriculum and its first field course. Later, he did an archaeological survey of the USAFA grounds, traveled to Tanzania to study African Paleolithic archaeology and published widely including three books, two edited volumes and countless articles.
In addition to his work as a faculty member, Wynn held several administrative posts including five years as associate dean of the College of Letters, Arts and Sciences; three stints as chair of the Department of Anthropology; and chair of the Department of Visual and Performing Arts and Department of Philosophy. Since 2000, he has served as director of the UCCS Center for Cognitive Archaeology, which offers online courses taught by faculty worldwide.