PEOPLE
Laird recognized as part of National Mentoring Month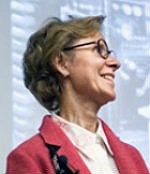 Pamela Laird, professor and chair of history at the College of Liberal Arts and Sciences at CU Denver, was interviewed by the American Association of University Women (AAUW) as a part of their celebration of January as National Mentoring Month, and the resulting feature is currently showcased on their blog.
In the interview, Laird describes the implications of mentoring in a networking setting. Creating a community and network of personal relationships, Laird said, is more valuable than the immediate results of professional networking.
"The nice thing about (networking) and volunteering, is that even if it doesn't have a professional benefit, it's (mentoring) doing the right thing," she said. "It's doing work that matters and helps people and builds community. So it's valuable in itself."
Laird received the University of Colorado Denver Mentor of the Year Award for 2013.