PEOPLE
Kohrt named inaugural Nancy Anschutz Chair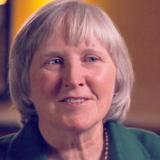 Wendy Kohrt, professor of medicine in the Division of Geriatric Medicine, has been named the inaugural Nancy Anschutz Chair in Women's Health Research, an endowed chair in the Center for Women's Health Research.
Kohrt is a preeminent researcher in women's health whose work has been funded for more than 25 years. Her research is focused in two main areas: metabolic actions of sex steroids, and novel factors that influence musculoskeletal adaptations to exercise. She also is a dedicated and successful mentor.
She is co-associate director of the Center on Women's Health Research; principal investigator of a National Institutes of Health-funded Specialized Centers of Research on Sex Differences; head of the Investigations in Metabolism, Aging, Gender, and Exercise research group; an associate director of the Colorado Clinical and Translational Sciences Institute; and associate director of research for the Eastern Colorado VA Geriatric Research Education and Clinical Center.