PEOPLE
Kling honored as Employee of the Quarter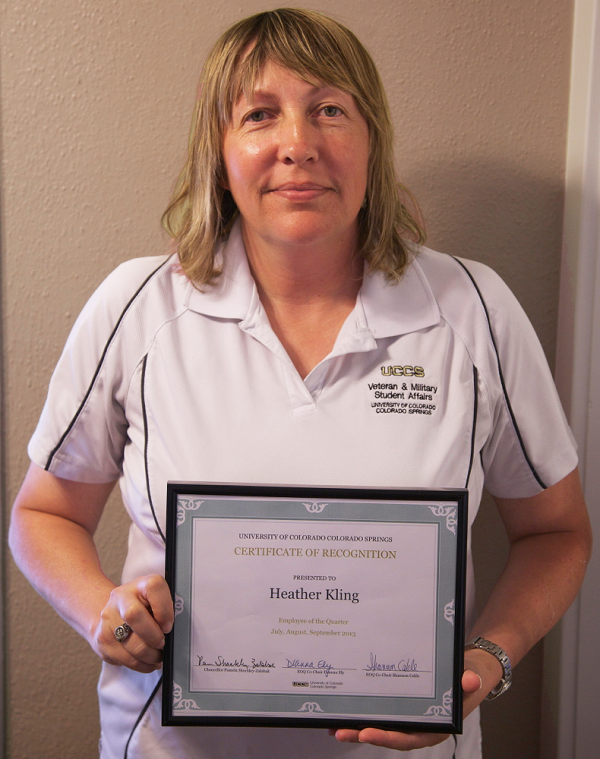 Heather Kling is not accustomed to the spotlight. She'd prefer to stay behind the scenes if she could. But after recently being named Employee of the Quarter, Kling, program manager, Office of Veteran and Military Student Affairs, at the University of Colorado Colorado Springs, may have to deal with a little extra attention.
The former Army Sergeant First Class and UCCS alumna said she was surprised when she was notified of the award, along with an accompanying day of administrative leave, a $100 stipend, a certificate of recognition, and three months of free and reserved campus parking.
"I'm still flabbergasted," Kling said. "It's a great honor that I'm grateful to have received."
While Kling may be surprised, Phillip Morris, program director, Office of Veteran and Military Student Affairs (OVMSA), was not.
"Heather is the foremost authority at UCCS when it comes to the Department of Veterans Affairs funding and administrative issues," Morris said. "In addition to managing a very effective processing office, Heather also works diligently with our 10- to 15-member work-study staff to make sure they perform their jobs well, and learn and grow while working at the OVMSA."
Kling also represents the OVMSA at orientations, graduate fairs and the numerous military job and education events throughout Colorado Springs.
She said she wouldn't have received this award if it weren't for the work of her entire office.
"The Office of Military and Veteran Student Affairs has come a long way in the last few years and there's such great support from everyone here," Kling said.
Before joining the OVMSA in 2010, Kling served in the United States Army for more than 20 years. After retiring, she earned her Bachelor of Arts in psychology from the UCCS College of Letters, Arts and Sciences.
Outside of work, Kling is working toward her master's of public administration and enjoys hiking with her three dogs, Sammie, Bailey and Ellie.