PEOPLE
Kittelson thanked for six years of leadership of consortium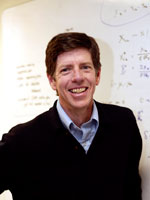 John Kittelson, who spearheaded the effort to open a dedicated center for biostatistical consultation at the university, has elected to step down as director of the Colorado Biostatistics Consortium (CBC).
Kittelson, professor of biostatistics in the Colorado School of Public Health, also served as director of the Biostatistics, Epidemiology and Research Design (BERD) core of the Colorado Clinical and Translational Sciences Institute (CCTSI).
Soon after joining the faculty, Kittelson established the need, designed an operational plan and identified the funding strategy to open a dedicated center for statistical consultation. Previously, biostatistical consulting and collaborative support had been scattered and difficult for health sciences faculty to identify and utilize.
"Under John's leadership, the CBC's collaborations stretched across the school and Anschutz Medical Campus and provided valuable research collaborations for health science colleagues and outstanding training opportunities for our students," wrote David C. Goff Jr., dean of the Colorado School of Health, in a newsletter to colleagues.
Department of Biostatistics and Informatics Chair Dennis Lezotte, Ph.D., said that with the CBC's establishment in 2006 and subsequent emergence of the CCTSI grant, Kittelson led the organization and management of statistical services on campus.
"Through John's prior insights, leadership and dedication, I believe we have a well-established foundation from which the department and its faculty can launch additional support to all the major research programs, clinical investigations and academic units on campus," Lezotte said.
Lezotte will serve as interim CBC director until a permanent director is appointed. During the interim period the CBC will continue to provide research consulting services and collaboration for campus researchers.