PEOPLE
Kennedy named Pew Scholar in Biomedical Sciences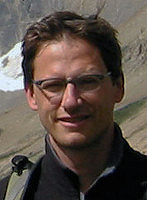 Matthew J. Kennedy, assistant professor of pharmacology in the School of Medicine, was named a Pew Scholar in Biomedical Sciences. He is one of 22 early career researchers to receive the honor this year from The Pew Charitable Trusts.
The scholars receive flexible funding to investigate some of the world's most pressing problems.
Kennedy's lab is investigating the molecular events that "strengthen" the connections between neurons during learning and memory. Strengthening neural connections is thought to involve the recruitment of molecules that enhance neural activity, including proteins that recognize and react to incoming neural signals.
He is combining techniques in cell and molecular biology with a novel approach he designed to control the movement of specific proteins in selected nerve cells to address whether recruitment of a particular protein to the site of signaling between activated nerve cells actually does promote learning and examine which cells are involved in memory storage.
Kennedy joins a community of more than 500 Pew scholars whose ranks include multiple recipients of Nobel Prizes, Lasker Awards and MacArthur Fellowships. The scholars are selected based on proven creativity by a national advisory committee composed of eminent scientists.