PEOPLE
HR, finance teams pitch in at Food Bank of the Rockies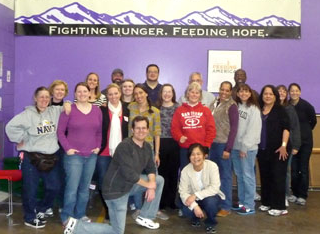 The University of Colorado Denver's Human Resources Office this year chose to donate its time in the CU in the Community campaign to the Food Bank of the Rockies. Twenty-three volunteers from the office filled almost 500 boxes -- 6.5 tons -- with food for the U.S. Department of Agriculture's food program that targets low-income, pregnant and postpartum women, their infants and children, and seniors.
Brooke Fitzpatrick, a senior human resources consultant, said the four hours of packaging left the group with a unanimous feeling of success and time well spent. "Working toward a common good and touching our community through Food Bank of the Rockies was an amazing experience, and it was an honor to volunteer our time," Fitzpatrick said.
Said Administrative Assistant Duane Trantham, "It helped me realize that Food Bank of the Rockies has a rich and long history of individuals from the community volunteering while it gives back to those in need in the community."
Her colleague, Amy Lowell, human resources consultant, added: "It was a great way for our HR team to give back to our community, while bonding over such an amazing cause!"