PEOPLE
Honda named staff employee of the month at CU Denver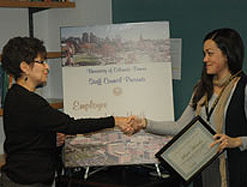 Sara Honda's positive attitude and willingness to help others has been recognized by her colleagues in the School of Education and Human Development (SEHD), and she has been honored as January's Staff Council Employee of the Month at CU Denver. Honda helps manage payroll and human resources matters within SEHD.
Staff Council Chair Deborah Makray presented Honda with a plaque and gift certificate (see photo, Makray left, Honda right). The honor is based on several nominations from Honda's colleagues. SEHD Project Coordinator Jennifer Feehan's nomination of Honda noted, "Sara makes an extra effort to find the answer to employees' questions even when she is not required to know the answer. Sara listens to the concerns of employees and makes an effort to provide solutions or ask for assistance."
Her positive and cheerful attitude also was described by Assistant Dean Christine Feagins: "She (Honda) has made the School of Education and Human Development a better and happier place to work – always assisting with the staff and school events."
Staff Council accepts nominations for Employee of the Month throughout the year. The nomination criteria and form is available online. Honda's name soon will be added to the Staff Council Employee of the Month roster of honorees.