PEOPLE
Haugen takes helm of national association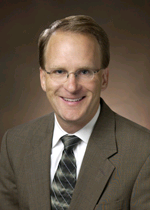 Bryan Haugen, a professor of medicine and pathology at the University of Colorado Denver and chief of the Division of Endocrinology, Metabolism and Diabetes, assumed the position of president of the American Thyroid Association (ATA) at its 82nd annual meeting last month in Quebec City, Quebec, Canada.
Haugen has been a member of the ATA since 1994 and has served on numerous committees. He has been a member of the thyroid nodules and cancer task force that developed the 2006 and 2009 guidelines. He has been on the editorial board of Thyroid since 1998 and an associate editor since 2008.
The American Thyroid Association is the leading worldwide organization dedicated to the advancement, understanding, prevention, diagnosis and treatment of thyroid disorders and thyroid cancer. ATA is an international individual membership organization with more than 1,600 members from 43 countries around the world.