PEOPLE
Harner explores historical geography of Colorado Springs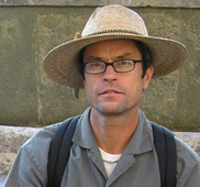 Local history isn't just for history majors. John Harner, professor of geography and environmental studies at the University of Colorado Colorado Springs, spent four days each week of his spring semester sabbatical buried in the archives at the Colorado Springs Pioneers Museum. Harner was researching an idea for a future book, a common activity for faculty members on sabbaticals.
But what happened to Harner was anything but commonplace. Instead of focusing on his own needs, Harner found himself collaborating with museum staff to bring geography and history together to tell the story of Colorado Springs, past, present and future.
"The historians are often all about the stories – this person did these things during these years," Harner said. "That's great. But there needs to be a context – maps and photos – that show the city's expansion and the societal forces that shaped it."
Harner hopes to someday produce a book on the historical geography of Colorado Springs. As a result of his time at the museum, Harner found himself working side-by-side with historians to tell the Colorado Springs story, participating in a fundraising video and in projects that will be unveiled next year. He will present preliminary findings from his research at the museum's monthly lecture series Nov. 10.
Harner will help the Pioneers Museum create maps to accompany an upcoming exhibit "The Story of Us." He also helped museum staff with a current exhibit about early African American residents in Colorado Springs. And for his part in a fundraising video, Harner laughs about his acting debut.
"I was there working and they grabbed me and put me in front of the camera," Harner said. "It wasn't exactly well rehearsed but it was a good UCCS promo."
Museum archivist Leah Davis Witherow, who earned a master's in history from UCCS in 1997, as well as museum director Matt Mayberry, a UCCS master's in history graduate from 1996, both teach and guest lecture at UCCS. Harner hopes to build on his new relationship by taking students in his urban geography and cultural landscape courses to work on projects in the museum archives, possibly leading to student research projects and sparking an interest in the common ground of geographers and historians.
"Collaboration is good," Harner said recently. "I'm glad that I can help.   The missions of these two institutions are intertwined in that both help create community."