PEOPLE
Gallegos reappointed to state education council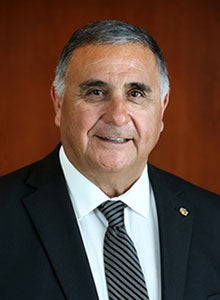 University of Colorado Regent Glen Gallegos has been reappointed by Gov. John Hickenlooper to the Education Leadership Council. He will serve as a public member until June 30, 2015.
The council was created to improve Colorado's standing in the country as a leader in providing 21st century learning opportunities from birth through graduate school. The council provides a forum for discussing the progress of the implementation and synchronization of education reform initiatives that have been enacted and policy initiatives that should be created, implemented or promoted.
Gallegos is a former educator and retired president of operations at a family-owned construction company. A Republican from Grand Junction, he was elected to the Board of Regents in 2013 and represents Colorado's 3rd Congressional District.
CU President Bruce D. Benson also was reappointed to the council, as a postsecondary administrator representing the four-year sector. His term will expire June 30, 2014.