PEOPLE
Fellowship will take professor to London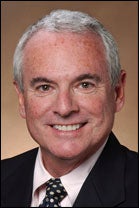 Arlen D. Meyers, professor of otolaryngology, engineering and dentistry at the University of Colorado Denver, has been awarded a Fulbright Fellowship to work in the Business Development Office at King's College London this summer.
A goal of the six-week fellowship is to develop United Kingdom-Colorado bioengineering education and research and development collaborations.
Meyers is an award-winning clinician, researcher, educator and bioscience entrepreneur. He is founder of three bioscience and health care companies, consults to industry and leads several global bioentrepreneurship education initiatives. He has published more 300 books and journal articles.
Myers is a former Harvard-Macy fellow, a National Library of Medicine Fellow and a Fulbright Scholar (bioentrepreneurship).