PEOPLE
Everson awarded new patents for testing liver function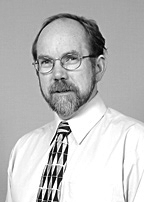 Gregory Everson, professor in the Division of Gastroenterology and Hepatology, School of Medicine, recently received two patents for a less-invasive measurement of liver function.  The patents are part of a new system to test liver function that has not been possible with tests that have been in use. Previously, tests only could detect disease in late stages.
"We needed a reliable test to start identifying problems in early stages and to continue providing reliable results as the disease advances," Everson said.
This new test is in an investigational phase and not yet FDA-approved. But Everson said work is underway with research centers and industry to bring this test into clinical trials. Such trials potentially can provide information about the progression of liver disease.
Several more patents on this are pending in the United States, Europe, Canada and Australia. Everson, in conjunction with a group of angel investors, formed the company HepQuant LLC in 2007 with the goal of bringing this testing to the clinic.