PEOPLE
Peter Buttrick, the S. Gilbert Blount Professor and head of the Division of Cardiology and professor of physiology and biophysics, has been named senior associate dean for Academic Affairs for the School of Medicine. Buttrick will continue to serve as head of the Division of Cardiology as the Department of Medicine leadership develops a transition plan for that role.
CU-Boulder's Elizabeth Fenn, associate professor of history, and Laura DeLuca, lecturer in anthropology, received 2015 Colorado Book Awards. Fenn's "Encounters at the Heart of the World: A History of the Mandan People" won the History category and DeLuca's co-authored "Lost Girl Found" won the Young Adult Literature category. The awards were presented at a ceremony in Aspen. Fenn's book also was awarded the 2015 Pulitzer Prize for history earlier this year.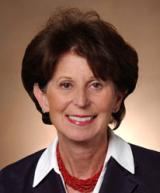 Lilly Marks has been named to the board of directors of Orthofix International, a diversified, global medical device company. Marks serves as vice president for Health Affairs for CU. She also has served as chair of the board of directors of the University of Colorado Hospital and has previously served as both the senior associate dean for Finance and Administration of the University of Colorado School of Medicine and the executive director of University Physicians Inc.