PEOPLE
Davison receives top award for paper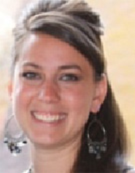 Erin Davison, a lecturer in the University of Colorado Denver Department of Communication, has received a top paper award from the Communication and Instruction Division of the Western States Communication Association for "An Exploratory Study of Factors Affecting International and Domestic English Language Learner Students' Educational Experiences at a Western States Urban University."
The paper was derived from her master's thesis, under the direction of Lisa Keränen.
Davison will present her research in Reno, Nev., in February.