PEOPLE
CU Denver instructors honored for landscape architecture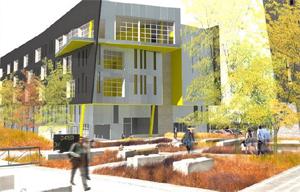 Three CU Denver instructors have been recognized by the American Society of Landscape Architects Colorado with awards for its 2014 competition.
Landscape Architecture Senior Instructor Tony Mazzeo, principal and founder of PLOT Project LLC, won the President's Award of Excellence for General Design Under $500K for his project "Drive 1 Plaza and PLD," at TAXI @ RiNo Arts District in Denver. "The Plaza is planted to mimic a Colorado prairie and serves to define seating and circulation for a communal area, coffee shop, and building entrance," according to project description. "Linear rows of local concrete bin blocks, sheathed in yellow translucent fiberglass lids, act as seating and visually point toward the original radio tower of the neighboring TAXI 1 building. The PLD captures, filters, and treats all of the site's storm-water runoff, as a canopy of cottonwoods and a carpet matrix of native grasses and shrubs offer a bit of ornamental nature in this post-industrial landscape."
Instructor Emmanuel Didier, owner and principal of Didier Design Studio LLC, won a Merit Award for General Design Under $500K for "Childhood's Gate at The Arboretum at Penn State." Senior Instructor and Associate Chair Lori Catalano, design affiliate and consultant, was on the team for Three Sixty Design's two awards, an Honor Award for Residential Design Over $100K for "The Art of Fluid Living" and a Merit Award for Residential Design Under $100K for "Curb Appeal."
The awards were independently judged by a jury from the ASLA Arizona Chapter.