PEOPLE
CU Cancer Center welcomes Karyn Goodman, MD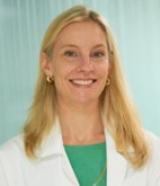 For Karyn Goodman, MD, Colorado is a breath of fresh air. Coming from the busy streets and massive skyscrapers of Manhattan, her new home is the perfect place to get outside, mountain bike, and take in the "big, beautiful sky" with her husband and two daughters.
A New York native, Goodman has always had a special place in her heart for the western states.
"During my undergraduate years I wrote a thesis about Native Americans and diabetes, so I spent time in New Mexico and fell in love with the natural beauty of the mountains," she explains. "I am so excited to be in Colorado because it offers me the same views, a change from big city life, and a new job opportunity."
Goodman joined the University of Colorado Cancer Center on September 1, 2015 as the medical director of the cancer clinical trials office, associate medical director of oncology services, and a professor in the department of radiation oncology. Goodman came from the Memorial Sloan-Kettering Cancer Center where she had been a faculty member for eight years.
"I loved living in New York, but am thrilled to be here. Although, it has taken me some time getting used to having to drive places," Goodman jokes.
Before starting her career at Memorial Sloan-Kettering, Goodman received her undergraduate degree from Stanford University. She then started working in Georgia with the Center of Disease Control in the division of reproductive health but she subsequently returned to Stanford for medical school.
"In medical school, my mentor was a radiologist specializing in mammography who introduced me to her colleagues in Radiation Oncology, so I was able to see a specialty that many other students were never able to," Goodman explains. "After a rotation in Radiation Oncology I fell in love with it and the new technology that surrounds the field."
Now, a practicing radiation oncologist, Goodman has seen great changes in the field over time.
"I came in during a time of transition in radiation oncology," she says. "There is much more sophisticated computing involved and imaging has gotten so much better."
However, Goodman knows that there is still room for improvement when it comes to the quality of life for patients receiving radiation.
"We are focusing on trying to minimize both the short-term and long-term side effects of treatment," she says. "I am particularly interested in women's health after radiation, including fertility after cancer treatment and sexual health."
Goodman is optimistic that her time at CU Cancer Center will allow her to improve the quality of life for cancer patients in the Denver area as well as the entire country. Not only will she be seeing patients, she will also be working with colleague Tom Purcell, MD, to help develop standards of care and quality assurance across the new health care system. With her public health background and masters in epidemiology, she hopes to now focus more on implementing strategies and systems that impact positively on larger populations of patients.
"I am excited to expand my expertise into how to develop cancer centers, improve care in regional sites, and make sure that there is quality of care nationwide," she explains.