PEOPLE
CU Anschutz Office of Inclusion and Outreach honored by Kaiser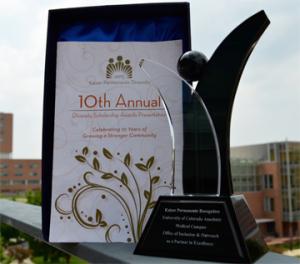 The CU Anschutz Medical Campus Office of Inclusion and Outreach was recognized Aug. 14 as a Partner in Excellence at Kaiser Permanente's 10th annual Diversity Scholarship Awards breakfast.
The Office of Inclusion and Outreach has partnered with Kaiser Permanente since 2007 in the Undergraduate Pre-Health Program (UPP). The organizations are committed to helping increase the number of historically underrepresented people in health care professions to help reduce health disparities among underserved communities in Colorado.
UPP offers students the opportunity to work in clinical and scientific research alongside health care professionals. Throughout the academic year, students receive coaching, tutoring services and exam review (such as the MCAT, PCAT, DAT, GRE). During Saturday workshops, students are assisted with graduate and professional school applications, letters of recommendations, personal statements, interview skills, mentoring opportunities and post-graduate program opportunities.
Since its introduction, the program has served 259 participants. Of those, 133 represent low-income backgrounds and 139 are the first generation in their families to attend college. Currently, 123 participants have gone on to graduate or professional programs. The first 14 of the program's medical doctors have completed or are currently in their residencies. The program also has produced six practicing dentists, 10 nurses and two pharmacists.
Bill Wright, executive medical director and president of Colorado Permanente Medical Group, presented the award to Dominic F. Martinez, senior director; Christian Valtierra, assistant director; and Medhat Ahmed, coordinator, in the Office of Inclusion and Outreach.