PEOPLE
Coussons-Read announces leadership reorganization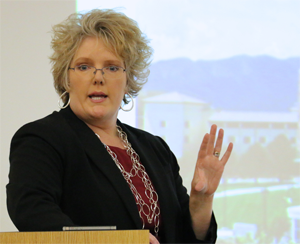 UCCS Provost Mary Coussons-Read opened the first Chancellor's Forum for the fall semester by announcing a reorganization of duties among key staff members within the academic affairs functions of her office to "expand capacity while adding as few administrative positions as possible."
David Moon will become vice provost for institutional effectiveness and undergraduate education. Kelli Klebe will be the associate vice chancellor for research and faculty development. She also will continue as dean of the graduate school. Kee Warner will continue as associate vice chancellor for diversity and inclusion, but his duties may shift to fill needs within academic affairs. Venkat Reddy, dean of the College of Business, will be assistant vice chancellor for online education.
"This is really an exciting time for academic affairs," Coussons-Read said. "Our goal, overall, is to expand our capacity to do new programming and create new student experiences — particularly experiential learning, internships, off-campus experience — things that put students into new environments whether at the undergraduate or graduate level. All of those things are really critical from my standpoint. These are things that, as a team, we are committed to doing."
Coussons-Read plans to add two new staff positions to the Office of Sponsored Programs to help faculty with grant legal compliance and with details ranging from budgeting to grant applications. She also hopes to improve communication with faculty.