PEOPLE
Concordia named new leader of UCHealth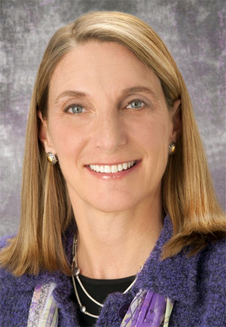 Elizabeth Concordia will be the new president and CEO of University of Colorado Health, the 15,000-employee health system, beginning Sept. 2.
Concordia has served at University of Pittsburgh Medical Center (UPMC) since 2001, most recently as executive vice president and president of UPMC's Hospital and Community Services Division. The hospital division includes 20 hospitals with a total of 5,100 beds, and 17 senior community facilities with another 2,400 beds and units. The division employs 36,800 people and generates $7.4 billion in revenue, up from $2.1 billion in 2001.
William Neff, who served as interim president of UCHealth after the retirement of CEO Bruce Schroffel and the resignation of President Rulon Stacey late last summer, will resume his role as system chief medical officer after assisting with the leadership transition.
"I'm thrilled and honored to accept the position," Concordia, 50, said in a phone interview shortly after UCHealth staff received the email announcement. "University of Colorado Health has a great future, and I look forward to helping it continue to grow and to build on the high-quality system that exists. We're well-positioned for an exciting period of growth."
John Harney, president and CEO of University of Colorado Hospital, said he was "thrilled with the outcome" of the search, which began last fall with an executive search team conducting staff surveys and face-to-face interviews with leaders from UCHealth and Front Range communities. The search committee used the feedback to develop a job description for potential candidates, then conducted a series of interviews to winnow down a list described as highly qualified candidates.
"The search committee should be commended for the results of the search, which was extraordinarily rapid," Harney said. "Liz Concordia has a very solid track record of working with both the academic and the community side of health care. She also has a great reputation among those who have worked with her. That speaks a lot to her skills."
Richard Schulick, chair of the University of Colorado School of Medicine's Department of Surgery and a member of the five-person search committee, said Concordia was instrumental in driving UPMC's growth the past dozen years.
"She went to Pittsburgh and played a key role in integrating 20 hospitals under one umbrella," Schulick said. "That's no small feat. She did a great job of integrating staff and kept everyone's eye on the ball in increasing UPMC's quality and safety programs."
George Hayes, president and CEO of UCHealth South (Memorial Hospital) said Concordia will bring a strong commitment to maintaining and improving the quality of care throughout the entire system. He said part of her responsibility at UPMC has been to deploy "best practices" across the system – experience that will be valuable in her new role with UCHealth.
Kevin Unger, president and CEO of UCHealth North (Poudre Valley Hospital and Medical Center of the Rockies), said Concordia's "experience is vast. She has done some terrific things at UPMC. She'll lead us in the direction we need to go. We're very blessed to get her."
Concordia's time with UPMC began with the challenge of bringing together clinical and operational cultures. In 2001, the system was finalizing the integration of UPMC Presbyterian – a hospital with a strong academic tradition located in the Oakland section of the city on the main campus of the University of Pittsburgh – and UPMC Shadyside, which had joined the system in 1997 but as a neighborhood hospital with more than 100 years of history maintained a private-practice culture.
The new operation, UPMC Presbyterian Shadyside, merged academic and community medicine cultures, an effort similar to the one undertaken with the creation of University of Colorado Health.
"The biggest challenge of building an integrated system is that organizations must come together to meet the same goal," Concordia said. "The most valuable assets are the people in the system, and we must make sure that they feel appreciated, respected and valued."
The support of physicians is crucial to system-building, she added.
"UPMC would not have had the success it has without the support of physicians," she said. "It's important that we be respectful of them and that they be included in the decision-making process."
Concordia acknowledged that a core strength of UCHealth is the inclusion of the only academic medical center in the region. "We have an opportunity for significant growth in the Denver area and the entire region as a destination for tertiary and quaternary care," she said.
But she also emphasized the importance of the system's community hospitals. "Each type of physician brings something unique and valuable. The key is to recognize the value of those differences and to create a system that respects the strengths of both academic and community medicine. We are stronger together than we are separate."