PEOPLE
Cascio named Life Fellow of the Australian Human Resources Institute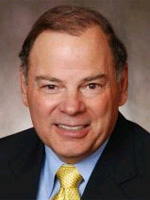 Wayne Cascio, the Robert H. Reynolds Chair in Global Leadership and a Distinguished Professor at the University of Colorado Denver Business School, recently was named a Life Fellow of the Australian Human Resources Institute (AHRI). The honor was presented during the AHRI Global Leaders World HR Congress held in Melbourne.
Cascio has embarked on six speaking tours for AHRI. This work has involved speaking to groups in all the major cities and some not-so major, such as Darwin and Alice Springs, and he has been featured as the focus of four cover stories in the AHRI monthly magazine.
"They are big supporters of my work on downsizing and also HR analytics," Cascio said. "In 2009, I went to Canberra to meet with the Minister of Labor, now Prime Minister Julia Gillard, to talk about the implications of my research on downsizing for Australian companies, and potential policy implications for the government. It was a very nice gesture on the part of AHRI to recognize me for this work."
AHRI Fellowship is a level of professional membership that recognizes HR professionals who have made a substantial contribution to and record of achievement in the practice of HR and are committed members of the Australian Human Resources Institute.
In 2010, Cascio received the Michael R. Losey Human Resources Research Award from the Society for Human Resource Management. Currently he serves as chair of the U.S. Technical Advisory Group that is developing international standards for the Human Resources profession, and he represents the United States to the International Organization for Standards. He also serves as a senior editor of the Journal of World Business.
He has authored or edited 24 books on human resource management and is a two-time winner of the best-paper award from the Academy of Management Executive for his research on downsizing and responsible restructuring.