PEOPLE
Carroll presents in Washington, D.C., on biomedical innovation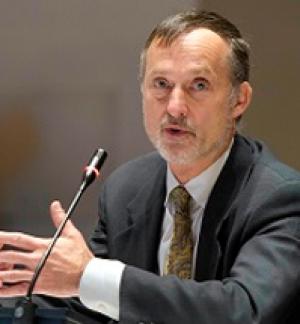 John Carroll, professor in the Division of Cardiology, Department of Medicine, was an invited speaker at a briefing last month in Washington, D.C. The event was sponsored by "Health Affairs," the leading journal of health policy and research.
At the briefing, Carroll discussed an article he authored for the journal's special February 2015 issue on biomedical innovation. In the article he described the development and accomplishments of the Transcatheter Valve Therapy Registry that is a national registry containing information on all patients in the U.S. undergoing recently FDA-approved heart valve replacements and repairs done in a less invasive way than open-heart surgery.
Carroll is a member of the registry's national steering committee. The registry involves a unique partnership between cardiology and cardiac surgery professional societies as well as the FDA, Medicare, hospitals, patients, and the medical device industry.
About 200 government officials, congressional staff, academics, other health care policy professionals and members of the news media participated in the briefing. Carroll emphasized how the registry is a major component of an enhanced learning heath care system with specific goals of improving the surveillance of this unique class of medical devices. The registry collects and analyzes data from more than 30,000 patients to date who have received these therapies in 354 United States sites. Rapid improvements in patient care have already resulted from registry activities.
The University of Colorado Hospital has been the regional leader in clinical trials that have led to FDA approval of these therapies. A multidisciplinary team performs these high-tech procedures using advanced 3-D medical imaging. Patients often go home 48 hours after having their heart valve replaced or repaired.
Carroll is active in clinical research, medical education and training, and clinical care including interventional cardiology procedures to treat valvular, coronary, congenital, and other disorders of the heart. He has several hundred peer-reviewed medical journal publications, books, and has given lectures nationally and internationally.