PEOPLE
Cain named chair of American Academy of Family Physicians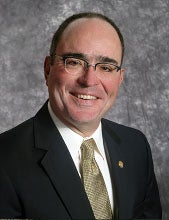 Jeffrey J. Cain, the chief of family medicine at Children's Hospital Colorado, has been named the board chair of the American Academy of Family Physicians (AAFP). Previously, he served one-year terms as president and president-elect, and three years as a member of the AAFP Board of Directors. Cain was elected to these positions by the Congress of Delegates, the AAFP's governing body. The AAFP represents 110,600 physicians and medical students nationwide.
As board chair, Cain will advocate on behalf of family physicians and patients nationwide to inspire positive change in the U.S. health care system.
Cain also practices family medicine at the AF Williams Family Medicine Center in Denver and is an associate professor in the Department of Family Medicine at the CU School of Medicine.
Throughout his 25 years of practice and teaching, Cain has been instrumental in creating a unique environment reflecting family medicine's role in providing patient-centered care and a medical home to Colorado residents of all ages. At the state level, Cain has been an active member of the Colorado Academy of Family Physicians since 1985, where his roles have included president and chair of the board. He currently serves on Colorado's Medical Services Board, which oversees the state's Medicaid and Child Health Plan Plus program. In this role, he was influential in passing and implementing legislation defining the medical home in Colorado and improving access for the underserved.
At the national level, Cain has demonstrated his dedication to public health through his co-founding of the Tar Wars tobacco-free education program that has reached more than 8.5 million children in 50 states and 16 countries. What began as an inspiration during his family medicine residency is now one of the AAFP's most respected outreach programs.
Cain was named as one of the 100 Most Influential People in Healthcare by Modern Healthcare magazine in 2013. He is a former member of the national board of directors of the Amputee Coalition, where he also served as chair of its Advocacy Committee and as a member of its Medical Advisory Board. His leadership and advocacy efforts with the Coalition have resulted in passage of prosthetic fairness laws in 22 states as well as introduction of bipartisan federal prosthetic insurance legislation. An amputee himself, Cain has competed and taught nationally in adaptive sports. He holds the first gold medal in adaptive slalom snowboarding from the U.S. National Snowboarding Championships and introduced a new adaptive ski device — the ski-bike — to North America.