PEOPLE
Advocates get educated on challenges to state funding for higher education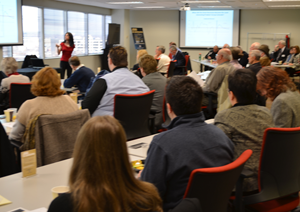 About 40 CU Advocates attended an educational forum on Friday, hearing details on a study about Colorado's economic future that was commissioned by the State Legislature and conducted by the DU Center for Colorado's Economic Future.
Among the attendees at 1800 Grant St.: Sen. Gail Schwartz, a former CU regent; current Regent Irene Griego; the CU Foundation's Wayne Hutchens (outgoing president) and Rick Lawrence (incoming president), plus members of the board of directors of the CU Foundation.
"Belonging to the CU Advocates is a better way for me to know what's going on at the university, and it helps me advocate to outside entities," said David Pierce, System Staff Council co-chair.
David Marberry, a board member of a new metro Denver-based chapter of CU-Boulder alumni, said he's part of CU Advocates to learn about issues and "put in my 2 cents."
"It's an exciting time," Marberry said. "There are challenges, but there's also a fair amount of interest. The potential is untapped – we have 40,000 alumni in the Denver area."
For more information, visit the CU Advocates website.