STORY
What are lectures for?
Education technology conference sets scene for questions about how today's student best learns
Lecturing is a big part of what J. John Cohen, M.D.C.M., Ph.D., does at the University of Colorado School of Medicine's department of immunology. But after watching some video footage of his own classes, he asked himself: What are lectures for?
"For years I've taught an online course in immunology for pharmacy students," Cohen said, noting that students received complete sets of notes and access to videos of lectures. "When I watched those videos, it was striking how excruciatingly boring an hour of video lecture is. ... Only occasionally was I saying something that went beyond or deeper than the notes."
Cohen made his remarks as a featured speaker at last week's COLTT – Colorado Learning and Teaching With Technology – Conference at CU-Boulder. In its 13th year, the two-day conference enjoyed record turnout of 373 education and technology professionals from throughout the region. Seminars and workshops provided educators with hands-on experience – using Apple's Garage Band to produce podcasts, brainstorming how to engage students with such free Web tools as Poll Everywhere and Twitter – but also examined the nature of teaching and learning, which was Cohen's focus.
"I'm going to suggest it's nearly impossible to learn anything from a lecture," Cohen said. After deciding his video lectures weren't effective, he replaced them with abbreviated audio lectures. "So far, no class has needed more than 12 minutes of audio lecture to replace a full video lecture."While listening to a lecture is considered a passive activity, Cohen said students actually are juggling far too many activities – listening to what's being said, reading PowerPoint text, watching the lecturer, referring to notes or illustrations on laptop computers, comparing what's being said to what's in the notes. Those competing tasks are followed by processing – moving thoughts through the working memory, extracting information from PowerPoint images and more.
"It's a lot of stuff to be doing in a supposedly passive learning atmosphere," Cohen said.
Still, he knows that lectures aren't going away. And that's not what he's calling for, either.
"My point is that the lecture is not the place for learning new material, because too much is going on," he said. "Lecture is the place for understanding material (that's already been learned)."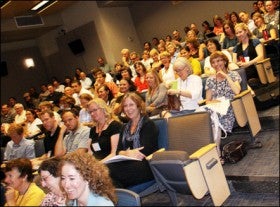 The keys for students getting the most out of a lecture include having read their notes or book chapter(s) at least one day before the class, as well as quizzing themselves based on the learning objectives. Also critical: a full night's sleep, or at least a nap, in between study time and the classroom. "That's where the consolidation happens," Cohen said.
He also praised a sometimes derided concept: testing.
"Testing is better than studying for retaining material," he said. "Learn it, test yourself, repeat. Testing helps recall. Testing helps learning."