STORY
Walking is good for you — unless ...
New study signals hazards of being a pedestrian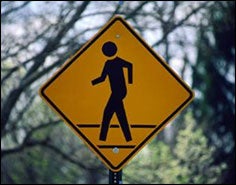 Pedestrians face a much greater risk of being killed in accidents than motorists — nine times as likely per kilometer traveled — according to a new study by University of Colorado Denver researchers.
Children, older adults, Hispanics and African Americans also are disproportionately affected by pedestrian-motor vehicle collisions. UC Denver researchers asked two main questions about pedestrian-motor vehicle collisions in Denver:
What patterns do pedestrian-motor vehicle collisions follow?
What is the relationship between pedestrian-motor vehicle collisions and environmental characteristics by census tract?
A combination of physical characteristics and social conditions can increase the risk of pedestrian-motor vehicle collisions in an area, according to the study by Anne K. Sebert Kuhlmann, Ph.D., UC Denver health and behavioral sciences program; John Brett, Ph.D., associate professor of anthropology; Deborah Thomas, associate professor of geography; and Stephan R. Sain, Department of Mathematics.
"Public health is increasingly learning how the built environment impacts healthy behaviors," said Sebert Kuhlmann. "As more people begin to walk instead of drive there may be increased risk of accidents involving pedestrians and automobiles.  In this study, we used publicly available data from local and state agencies to develop measures on how social and environmental factors affect pedestrian-motor vehicle collisions."
Results showed that most pedestrian-motor vehicle collisions take place downtown, in LoDo and in nearby neighborhoods bordering major arterial streets.
The American Journal of Public Health published the study in its September 2009 issue. Researchers said they hope the report will lead Denver and other cities to pursue policies enhancing pedestrian safety and public health programs aimed at decreasing injuries from pedestrian-auto collisions.