STORY
VanDriel joins James, McNulty, Montera in Board of Regents victories
System leaders to be sworn in Jan. 5, 2023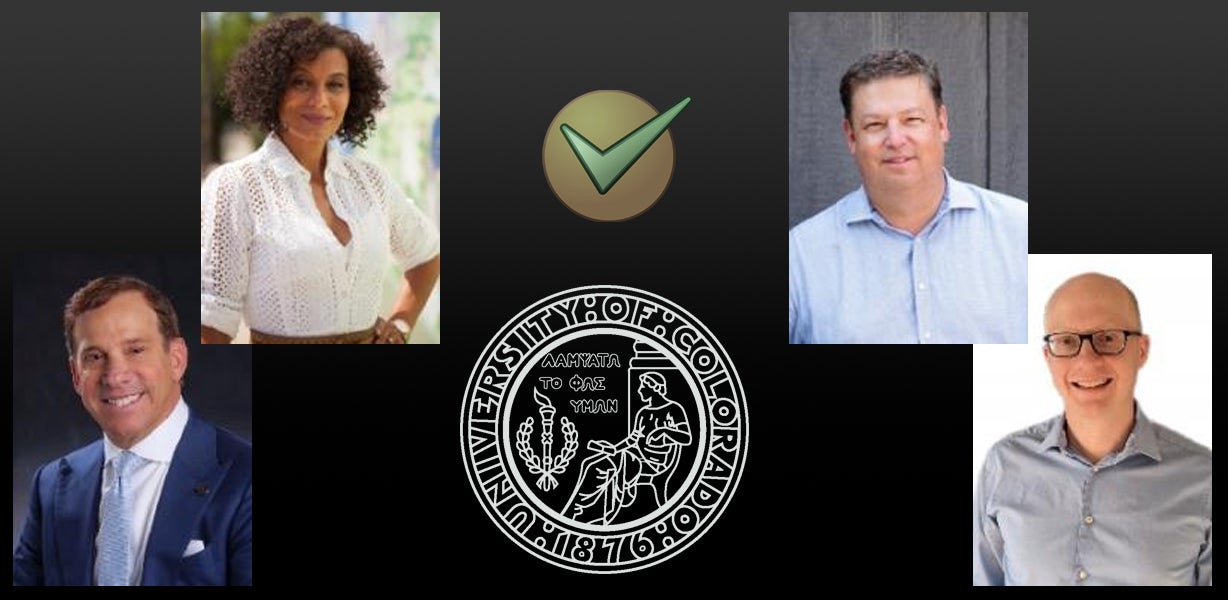 In a race too close to call until days after the Nov. 8 election, Mark VanDriel became the first Board of Regents member to represent the state's new 8th Congressional District.
VanDriel joins Wanda L. James and Frank McNulty, who were elected in Districts 1 and 4, respectively, and sitting Regent Ken Montera, who won in District 5, as 2022 victors.
As of Nov. 15, Montera, R-Colorado Springs, had 160,043 votes against 104,708 votes for challenger Ron Casados, D-Colorado Springs. (Vote totals in this story are from the Secretary of State's office.)
Montera has represented the 5th Congressional District since being appointed to the board by Gov. Jared Polis in December 2021 after the departure of Regent Chance Hill. Montera now will complete Hill's original term, which ends in January 2025.
Montera earlier this year was elected vice chair of the Board of Regents and also serves as chair of the board's treasury investment group. He is vice chair of the Finance Committee and a member of the University Affairs Committee. A graduate of the CU Boulder Leeds School of Business, Montera spent over 30 years as a senior executive in four Fortune 200 companies leading strategy, multi-billion-dollar budgets and direct responsibility for over 40,000 associates.
Montera previously ran for an at-large seat, which current Chair Lesley Smith won in 2018.
"I'm feeling pretty good, because I won this time, which is a little different," Montera said. "The biggest difference was running in my congressional district versus running at the state level. When I ran then, I was hitting 63 counties in the state, meeting a lot of people – urban, rural, farming and ranching communities. The great part was getting to understand the state and how diverse and complex it is. It helped me understand what it would be like to govern."
Montera said he's eager to continue the work he began on the board nearly a year ago, guided largely by CU's Strategic Plan.
"I couldn't be more pleased with the way the board works and where the university is going, particularly with our selection of Todd Saliman as president," Montera said. "When you look at the success of a board, especially in the nonprofit world, the value comes from the strength of the entire board, not the individual members. The board has to come together collectively to make decisions that advance the university. I've been pleased with the camaraderie our board has and our ability to make decisions – sometimes not popular ones – collectively."
As of Nov. 15, VanDriel, R-Greeley, had received 117,872 votes, while Yolanda Ortega, D-Westminster, had 110,256 votes.
A Greeley native, VanDriel attended CU Boulder as an undergraduate on his way to becoming an educator. After earning a doctorate in American history at the University of South Carolina, he taught undergraduates there for 10 years. In 2020, he returned to Colorado to establish a business coaching undergraduates.
VanDriel said he's thrilled to have won the election.
"It means a lot to have received so much support from the wonderful community in CD8," VanDriel said. "It was a great campaign. I got to advocate for the university to many thousands of concerned and skeptical Coloradans. It was also wonderful having Yolanda Ortega as my opponent. She was passionate and I felt both of us were committed to improving CU for all."
VanDriel said his priority now is getting to understand his fellow board members.
"The Board of Regents is democratic, so it's essential to understand other perspectives," he said. "Similarly, the university administration deserves regent support and respect in doing their jobs, so I need to master the ins and outs of everyone's before I can be an effective regent."
As of Nov. 15, the vote total for James, D-Denver, was 201,775, while challenger Amy Naes, R-Denver, had 55,091 votes.
James became a first-generation student and Naval ROTC midshipman at CU Boulder 40 years ago. An entrepreneur in the cannabis industry, James considers herself an advocate for political equity, a social justice fighter and a lifelong learner.
The vote total for McNulty, R-Highlands Ranch, was 215,071 as of Nov. 15, while challenger Jack Barrington, D-Las Animas, had 121,366.
McNulty is a former Speaker of the Colorado House of Representatives, where he served from 2007 to 2013. A CU Boulder alumnus, he works in a political consulting firm.
Two incumbents chose not to seek re-election in 2022: Regent John "Jack" Kroll, D-Denver, representing the 1st Congressional District; and Regent Heidi Ganahl, R-Lone Tree, serving in a statewide at-large seat that now is assigned to the new 8th Congressional District. Regent Sue Sharkey, R-Castle Rock, has represented the 4th Congressional District since 2011 and is term limited.
Regents are elected to six-year terms, which are staggered. Eight of the nine seats are assigned to Colorado's congressional districts, including the newly established 8th District; the final at-large seat is elected by voters statewide.
Winners of last week's board elections are scheduled to be sworn in Jan. 5, 2023, at 1800 Grant St.