STORY
Units within Office of the President coming together next year
Relocation of remaining units from Boulder to Denver will improve work relationships, save money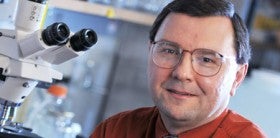 The Boulder-based offices of University Information Systems (UIS) and Payroll & Benefits Services (PBS) will be moved to Denver in the fall of 2011, completing a shift of units within the President's Office that began three and a half years ago.
Most recently, the Procurement Service Center moved from its Lawrence Street location in Denver to the fifth floor of 1800 Grant St., where the Office of the President is based. After July 31, 2011, space on the building's second, third and fourth floors will become available because software company Quark Inc.'s lease is ending, thus enabling the next departmental moves. October 2011 is the tentative move date.
Leonard Dinegar, senior vice president and chief of staff, said about two years' worth of savings will cover the cost of the move and improvements; thereafter, the university will save about $425,000 annually on lease costs. Another benefit: improved work relationships.
"It seems as though the units within the Office of the President are having to work more closely with each other over the past several years, especially because of the growing interdependence among all units," Dinegar said. "Having them so spread out makes it difficult to work more collaboratively when meetings need to take place via phone or videoconferencing rather than simply walking down the hall or down a flight of stairs to meet with the folks you need to see.
"For example, when we first moved the president's office from Boulder to Denver nearly four years ago, the staff currently on the eighth floor were spread out into seven different buildings in Boulder. Having these staff members located together has made life much easier for all of us."
Dinegar said about half of the UIS and PBS staff live in the Boulder-Broomfield area, while others live halfway between Boulder and Denver or closer to Denver.
"No doubt it will be a significant lifestyle and cultural change moving from Boulder to Denver, but there will be, I believe, significant benefits as well," Dinegar said. "Denver is a great place to work. Staff will also benefit by being closer to their fellow staff in other units within the Office of the President.
"I know some folks will be happy to make the move while others not so happy. I also know that many of the staff are taking the view that we'll see how things go in Denver."
The RTD EcoPass remains available to system administration staff. Some staffers may be able to take advantage of the recently approved Alternate Work Place/Schedule policy.
Human Resources soon will launch a website providing information for staff about the move.
In Boulder, the privately owned UIS building will be available for lease; PBS leases space from CU-Boulder, where administrators will consider options for use of the space once it's available.