STORY
Total system enrollment up slightly for fall
Student recruitment, retention remains key at campuses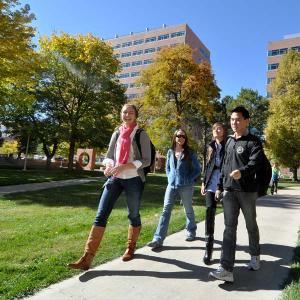 Student enrollment across the CU system is up slightly – 0.6% — compared with a year ago, based on a preliminary fall total of 66,777.
Regents received details on the enrollment estimates from Chad Marturano, acting CFO, during the board's meeting Friday at 1800 Grant St.
While that total also is slightly above the June estimate that was used to determine the current fiscal year's budgets, leadership won't consider potential 2022 compensation increases for faculty and staff until evaluating final census figures expected later this month. The board will hear in October whether target revenue levels have been reached.
CU President Todd Saliman noted that smaller classes of incoming freshmen this fall and last fall, influenced by the pandemic, will continue to have ripple effects in enrollment totals for years to come. The campuses continue to work hard at recruiting new students and retaining current students to offset these effects.
In other business at Friday's meeting, the board instructed the campuses to make available in-state tuition status for American Indians who belong to tribes with historic ties to Colorado. The move aligns with a change to state law SB21-029 made earlier this year by the Legislature.
A video recording of last week's meeting is posted here.