STORY
Therapy, research with dogs help returning service members
When Jill Wilschke, LMFT, visited CU Denver to interview for the position of veteran mental health specialist, the interviewers invited a student veteran to participate in a "mock" counseling session with her.
Wilschke's experience had been with the U.S. Marine Corps, so the student—who represented a different branch of the military—vowed, half-joking, to "give her a hard time" during the counseling session.
Then Wilschke's "co-therapist" walked into the room and rested her head on the veteran's knee.
"The vet melted," Wilschke said, laughing. "He forgot about giving me a hard time."
Wilschke got the job, along with her "co-therapist" Lulu​—a black Labrador retriever service dog.
Starting life as a prison puppy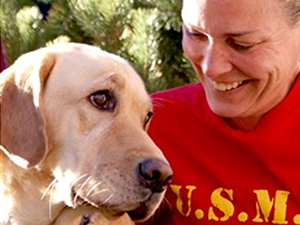 Patricia Larsen, PsyD, director of the Student and Community Counseling Center, collaborated with the Office of Veteran Student Services (OVSS) to create the veteran mental health position serving the 1,100 student veterans at CU Denver. Larsen makes it clear that Lulu sits second chair to Wilschke in any therapy session.
"Jill got this job because of Jill, not because of Lulu," Larsen said of Wilschke. "Of the final three candidates for this position, Jill stood out because she had really lived military culture. Lulu was just an added bonus."
Wilschke has always been a dog lover, but she first saw how dogs could assist in therapy when she was working with foster children. "I would have kids who were out of control," she said. "Then the dog would show up, and they would sit calmly. They became different children when there were dogs around."
When Wilschke's husband, Alex, joined the Marine Corps after completing law school, she found herself living at Camp Pendleton in California while he was deployed to Iraq. When he returned from overseas, the couple moved to Camp Lejeune in North Carolina. "I have never served in the military, but I have a visitor's pass," Wilschke said. "I am close enough to know the language."
At Camp Lejeune, Wilschke put her training as a Licensed Marriage and Family Therapist (LMFT) to good use. She worked with Marines and U.S Navy sailors who were struggling with symptoms connected to their combat experience, including grief, anxiety, post-traumatic stress disorder (PTSD), paranoia and survivor's guilt. She had been trained in evidence-based approaches to treat PTSD, but sometimes therapy boiled down to the basics.
"Often, (the service members) were just hurting, and they needed someone who would listen," Wilschke said. "If you could just do that in a non-judgmental way, it could help give someone peace."
In June 2011, Wilschke was accepted by paws4vets, an organization devoted to training dogs to perform service tasks for veterans. Usually, the organization places a dog directly with a veteran, but Wilschke proposed a different arrangement. Her dog would be trained to work with her as a psychiatric service dog, touching the lives of many service members.
Wilschke met Lulu at a women's state prison in West Columbia, W.Va., where the puppy had received training in drug detection from prison inmates. Originally named "Marley," Lulu had washed out of the training program, because she refused to identify any drug—except marijuana. But after leaving prison, Lulu did seven months of "graduate work" and proved her ability to provide service for those in need.
Lulu and Jill, working together
In a counseling session, Lulu is a calming influence. Wilschke says she can also act as an alert system, opening emotional doors for veterans in counseling. She can sense when emotions change, sometimes even before humans notice. If someone is distressed, Lulu will go to the person to offer comfort. For clients who come in regularly, Lulu will change her greeting, depending on the mood of the client.
"It's hard to hide things from Lulu," Wilschke said.
Since she arrived on campus in mid-November, Wilschke has done in-service training with CU Denver's counseling staff about ways they can help veterans adjust to civilian life. "Jill has made us more sensitive to the important things we need to be talking about with student veterans," Larsen said.
Jill and Lulu divide their time between an office in the Counseling Center and a second office that is under construction in OVSS. The pair has become a familiar sight in the Tivoli Student Union, where both offices are located. "Anybody who sees Lulu smiles," Larsen said. "You can tell their mood changes."
While Lulu is very well-behaved, she is no saint.
"When her (service dog) vest comes off, she knows she is no longer working, and she can be a real pain!" Wilschke said. "She refuses to sit in the back seat of the car, and she prefers sleeping on any bed in the house other than her own."
Canines Providing Assistance to Wounded Warriors (C-P.A.W.W.)
Personal experience has convinced Wilschke that Lulu can help bring a new level of care to Denver Campus veterans. At the Anschutz Medical Campus, there is ongoing research to support the science behind animal-assisted intervention (AAI).
When College of Nursing researcher Cheryl Krause-Parello, PhD, RN, began her dissertation, her adviser suggested she research something that she was passionate about. Inspired by her dachshund, Samantha, and a lifetime of relationships with animals, she decided to study how pet attachment serves as a form of social support for older adults.
When Krause-Parello decided to continue her research in AAI, she again followed her passion, this time remembering how her husband, a Marine veteran, had served his country. "I was too old to serve," she said, "but I decided I could help by taking my passion for canines and studying their effect on wounded warriors and veterans."
In October 2013, Krause-Parello founded C-P.A.W.W. to advance interdisciplinary research, education and practice protocols for wounded warriors and veterans through the development of evidence-based interventions. She works with Cari Levy, MD, a geriatrician and Elizabeth Holman, a clinical psychologist, at the Denver Veterans Affairs Medical Center, and with Waffle, Holman's Labrador/golden retriever mix. Krause-Parello plans to measure stress responses like saliva cortisol, blood pressure and heart rate in palliative care patients who receive visits from Holman and Waffle, and then compare those responses to those of veterans who receive a visit from only Holman, without Waffle.
Our instincts tell us that animals make a difference, that they have an effect on people they visit," Krause-Parello said. "But it's not enough to just say it happens. You need research and you need to measure the difference animals make."
Helping wounded warriors with PTSD
Krause-Parello, in conjunction with Col. Mona Pearl, has a second grant to study AAI with wounded warriors at Walter Reed National Military Medical Center in Bethesda, Md. She is going to compare how animal interaction affects three groups of veterans: (1) patients with PTSD who have no traumatic brain injury (TBI), (2) patients with PTSD and mild TBI and (3) patients with PTSD who have not responded to other forms of treatment.
If her research shows that one of these three groups responds positively to canine interaction, the research will continue to a second phase. What if all three groups respond positively? "We would be very happy, because it would support that canines really do make a difference," Krause-Parello said.
Since its inception, C-P.A.W.W. has quickly grown to include a new canine member of the team named Butler, a yellow Labrador retriever, as well as several research assistants, all of whom, not surprisingly, have dogs. Partnering with Pets for Vets and the Warrior Canine Connection, C-P.A.W.W. hopes to advance nursing knowledge and the standards of care for military veterans.
"I have a lot of friends in the military, and I want to give back to them, for they have given us plenty," Krause-Parello said.