STORY
Technology conference calling for proposals
COLTT 2015 a vital event for professional development, networking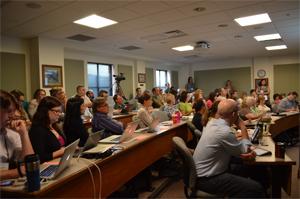 The 2015 Colorado Learning and Teaching with Technology (COLTT) Conference call for proposals is now open.
Organizers of the conference, set for Aug. 5-6 at CU-Boulder, welcome your innovative ideas, relevant experiences and sharable expertise pertaining to teaching with technology. Past COLTT participants can look forward to catching up with one another while welcoming new attendees and speakers at the CU-Boulder Wolf Law Building.
Over the past eight years, COLTT has become a vital professional development and networking event for the educational technology community in postsecondary institutions across Colorado and the Rocky Mountain region. This promises to be a fantastic year for COLTT, with the program committee discussing topics such as open educational resources, best assessment practices, and tech-enhanced learning spaces.
Deadline for proposal submission is April 6. Learn more about presentation proposals – including session types, topic suggestions and FAQs – here.
The 2015 submission form has been updated and is on the COLTT website here. The form cannot be saved in-process, so applicants are encouraged to prepare responses in a separate document before copying and pasting.
Send questions to coltt@cu.edu.