STORY
Talking trash, robots and facilities at CU Innovation and Efficiency Awards
Top prize at 2017 Expo honors procurement expertise
The 2017 CU Innovation and Efficiency Awards Expo showcased an impressive group of finalist submissions that covered everything from robotics to trash, with the top prize going to a staff member who used his procurement expertise to save the university almost $5 million in construction materials over the past two years.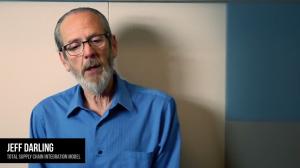 During the May 15 event at 1800 Grant St., the grand prize of $1, 500 was awarded to Jeff Darling, a procurement and supply chain specialist with Facilities Management at CU Boulder. His "Total Supply Chain Integration Model" compares contractor supply chains against the state's supply chain to ensure that the university is getting the best discount structure possible for goods used during the construction process.
By working directly with contractors and learning about the discounts available to them through their suppliers, Facilities Management has been able to solicit competitive bids from these suppliers that have resulted in significant savings on quality construction materials.
Submissions from CU Boulder's Facilities Management set the competitive pace this year, taking not only the grand prize, but two of the four $1,000 runner-up cash prizes. One of those went to Tim Golden, Ron Ried, Jack Brubaker and Jon Sherman, whose vision of reducing traffic on the Boulder campus led them to an arrangement with Staples.
With the new practice, all campus office supply orders from Staples are delivered via the Facilities Management Distribution Center, using Facilities Management staff. By incorporating the Staples deliveries with the deliveries routinely done by their own staff, the team successfully reduced the number of delivery vehicles on campus streets, improving safety and reducing congestion and emissions. Also, with the assistance of Duane Tucker from the Procurement Services Center, the team negotiated a rebate from Staples to cover the costs of these deliveries. Negotiations now are underway with UPS to see if a similar deal can be struck.
But it's not all about supplies and materials with Facilities Management. In another prize-winning turn from the group, Kelsey Draper, a training coordinator, implemented the Inclusiveness Excellence Initiative, which aims to take down the language and technology barriers that exist for many custodial employees. Starting simply as an introduction to computers and mobile devices, the program has expanded to include classes on resume writing, job skills and more. They also have developed a website and mobile app that delivers critical information and alerts in English, Spanish and Laotian.
The outreach and enhanced communications have promoted an increased awareness of safety issues, reduced response time in emergencies, and heightened level of engagement for employees.
Eric Hoffmeyer, a professional research assistant with the Barbara Davis Center for Diabetes at the CU Anschutz Medical Campus, won a cash prize and impressed all in attendance by redesigning the programming for his lab's liquid-handling robot. The redesign significantly reduced the amount of time needed for the robot to perform its regular tasks, allowing Hoffmeyer to program new tasks and increase the robot's overall functionality.
Thanks to Hoffmeyer's robotics skills, the resulting improvements in efficiency and functionality have negated the need to purchase an additional robot to handle an increasing number of patient samples.
Personnel in the Environmental Health and Safety Department at CU Anschutz earned a prize for one of two "Let's Talk Trash" submissions. Biomedical Waste officers and specialists teamed up not only to educate campus personnel about the differences between regulated and nonregulated medical waste, but also to analyze disposal patterns in a successful effort to trim costs associated with waste pickup.
Team members Denise Donnelly, Mark Garcia and Robert L. Williams earned a cash prize for their money-saving time/motion analysis of waste pickup, with kudos going to J.C. Lexow for her work with the team on its related submission involving data analysis and financial reconciliation of waste disposal activities on campus.
Other individuals receiving finalist recognition this year included Chris Yankee and Allison Miller for their work developing the RIO (Research and Innovation Office) Bulletin, a biweekly communication targeting research personnel at CU Boulder.
Travis Chillemi and Normandy Roden were recognized for their submission on content-rich and engaging learning resources, in which existing learning resources were revamped and updated to consolidate related subject matter into individual modules that included a variety of training delivery modalities. Chillemi also became the expo's first interactive virtual participant by beaming in from Oregon to showcase his and Roden's work.
Alex Holmgren – associate director at CU Boulder's Center for Western Civilization, Thought and Policy – earned her place among the finalists by developing an event-tracking tool that combined Google and Zap Technology to comprehensively track and report on critical event information.
Jonathan Moore and Charles Whitecotton, another finalist team from CU Boulder Facilities Management, drew praise for their Mobile Device Management Model, which streamlines the configuration, deployment and management of its almost 500 smart devices by employing a centralized university-registered ID.
The CU Innovation and Efficiency program extended its thanks and congratulations to all the 2017 program year participants.
View short videos (filmed by Mike Cusic of the Office of University Controller) on the finalists and their submissions at http://www.cu.edu/controller/cu-innovation-efficiency-awards-submissions-2017-semi-finalist-videos.