STORY
System DEI office launches summer internship program
Three students at work on initiatives
The University of Colorado system Office of Diversity, Equity and Inclusion (ODEI) has announced the launch of its inaugural summer internship program.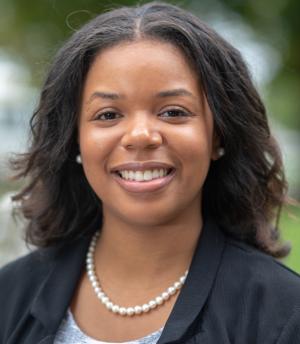 ODEI interns work under the leadership of Chief Diversity Officer Theodosia Cook and contribute to the entire office. Collectively, interns assist in promoting an environment free of discrimination through advocacy, education and the implementation of DEI strategies. These strategies cover programs and campaigns designed to enhance the success, retention and development of CU's diverse community.
The goal of the internship program is to provide student professionals the opportunity to sharpen DEI skills and learn how to navigate the nuances of DEI work. Interns bring their skills and expertise to the DEI office, working on important system DEI initiatives with projects that have real impact on the CU community. Interns participate in weekly professional development and mentorship to support them as professionals and scholars.
ODEI internship positions were open to all CU undergraduate and graduate students and were posted on the Handshake job boards of each of the four campuses. The office is excited to welcome this summer's interns and plans to have more internship opportunities in the future.
Meet the interns
All three interns – Ajah Mejia, Aldo Ruiz and Ruth Woldemichael – expressed their enthusiasm to participate in the internship program and for the opportunity to build upon their previous experiences working around DEI issues as well as explore their career interests and goals.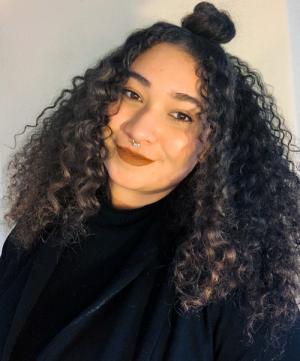 Ajah Mejia (she, her, ella) is the programs intern with the CU system Office of Diversity, Equity and Inclusion, supporting programming related to training, education and professional development in DEI. An undergraduate student of ethnic studies and international studies at CU Denver, Mejia is a 2020 recipient of the Chancellor Lesh-Laurie Continuing Scholarship and a 2021 recipient of the Rosa Parks Diversity Award. She works in the university's Center for Identity and Inclusion (CII) as the multi-heritage programming coordinator. In that space, Mejia developed 28 events in the last two years addressing intersectionalities relevant to the multi-heritage and greater BIPOC community. Mejia also serves her community as president of the Multiracial Biracial Student Alliance at CU Denver.
Mejia said she recognizes the importance of understanding the "intricacies of the larger system at play." She is excited to learn more about navigating institutions of higher education, to become more connected with DEI leaders and study their experiences and perspectives, and to be part of projects this summer "that will have a powerful impact on the university."
The work aligns with her career goal of having her own DEI-framed consulting firm focused on advocacy and restorative justice. She said this experience is helping her "to locate my own ideas of what needs to change to make our society learn, heal and evolve from of the atrocities of the past, and to prevent those of the future."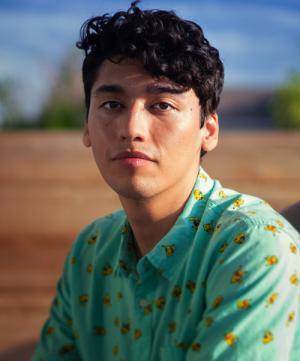 Aldo Ruiz (he, him, his) is the marketing and communication intern and supports ODEI's goal of increasing transparency and communication about system-level DEI initiatives and ODEI programming through digital communication strategies. Ruiz is pursuing a bachelor's degree in digital design at CU Denver. His background includes work as a graphic designer with the Center for Identity and Inclusion at CU Denver, and he has worked on marketing materials for multiple CU campuses.
Ruiz's experience as a designer in DEI has given him contact with topics requiring unique visuals to promote campaigns for student success or community engagement. He has experience advocating for students by means of an Equity, Diversity and Inclusion Task Force, and assisted with the creation of a culture survey intended to analyze a college's efforts to create thriving environments for students, faculty and staff.
Ruiz said he is excited to be working in the DEI space, as it brings him meaningful experiences and interactions and allows him to leverage his design skills and expertise to "tackle issues that I personally care about in small ways towards a larger goal." He looks forward to learning more about communication practices and strategies at the CU system level and to strengthen his skills in navigating such spaces. He hopes to explore during the internship "what additional career paths can be for [him] after graduation" and "make meaningful impacts in the world."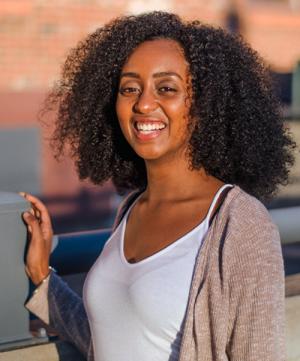 Ruth Woldemichael (she, her, ella) is the engagement and community outreach Intern. She will use research, critical analysis and program development to support efforts related to sustainable, authentic partnerships with community-based organizations and institutional awards and grants programs.
She is a fourth-year undergraduate pursuing bachelor's degrees in International Affairs and Ethnic Studies and a Spanish minor from CU Boulder. Woldemichael is a co-founder of CU Boulder's first Center for African and African American Studies (CAAAS, or the Cause) and former president of the CU Boulder Black Student Alliance.
Woldemichael has a background in community engagement work including in secondary education as a Teaching Fellow with the Denver School of Science and Technology at Cole High School.
Woldemichael said she was "intrigued by the ODEI team and their vision for what the CU community could look like with a focus on DEI initiatives." She knew this was a space she wanted to be a part of: "I am so excited to be here as a contributor, visualizer, and builder."
She believes education can be transformative and is excited to be part of work to ensure education is accessible and equitable, and to reimagine communities. Woldemichael knows her time with the ODEI "will challenge and teach [her] as a thinker, communicator and leader." Influenced by global socio-political liberation movements, she aspires to attend law school or graduate school soon after working in the education field for a couple years.