STORY
At symposium, experts survey obesity landscape, tools, solutions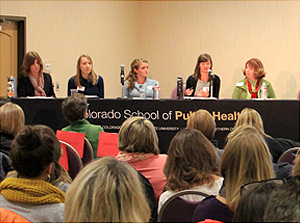 Personal weakness.  Heritable condition.  Environmental outcome.
Such are our views of obesity, a physical state few Americans are comfortable with yet an increasing number of us live with, to dire health consequences.
More than 150 public health practitioners and obesity experts from the spectrum of the health industry, academia and research gathered in Thornton on Thursday, Nov. 12 for the Colorado School of Public Health's one-day symposium on obesity and public health. More than one-third of American adults (and 22 percent of Colorado adults) are obese. Nationally, 18 percent of children aged 6 – 11 and 21 percent of adolescents are obese.
"Next to tobacco, obesity is the biggest single behavior-related risk factor for many diseases," said Dr. Tim Byers, associate dean for Public Health Practice and professor of Epidemiology at the Colorado School of Public Health, and associate director for Cancer Prevention and Control, University of Colorado Cancer Center. "Obesity drives heart disease, cancer, diabetes, arthritis – that's about half of our chronic diseases. Obesity presents a tremendous opportunity for us to improve health."
Trends, proven practices and road-tested experiences were shared at the event, featuring speakers from the Colorado School of Public Health, the Colorado Department of Public Health and Environment, LiveWell Colorado, the Colorado Health Foundation, Kaiser Permanente Colorado, the CU Anschutz School of Medicine and College of Nursing, and numerous other local health departments and nonprofits.
What works in fighting obesity
Dr. Shale Wong, associate professor at the CU School of Medicine and consultant to the Robert Wood Johnson Foundation, cited six evidence-based policies to combat obesity:
Improving the nutritional quality of food in schools;
Increasing access to parks, playgrounds and bike paths;
Increased access to healthy affordable foods;
Helping schools and all programs that serve children to increase activity;
Reducing consumption of sugary beverages; and
Protecting children from marketing of unhealthy products.
Individual laziness, willpower or greed were not cited as causes of obesity. Rather, public health solutions stem from a shared understanding that excess body weight is a consequence of sedentary lifestyles, unsafe streets, calorie-dense meals, driving, stress, food insecurity, poverty and changing social norms.
"It's unhelpful to think of obesity as primarily a personal weakness," said Byers. "If we think that, we miss all the other things we can do to fight obesity. The solution will involve personal motivation and also community and environmental changes that make the healthy choice the right choice."
Health equity focus
Some populations, including low- to moderate-income families, Hispanics and African-Americans are disproportionately affected by obesity. And, as statisticians gather body mass index (BMI) data by neighborhood, they are finding that excess weight corresponds to poverty.
Hunger, for instance, can lead to obesity. Hunger causes stress and disordered eating, which leads to overeating high calorie, nutritionally poor foods.
Further, women who are undernourished in pregnancy have children with a higher-than-usual rate of diabetes and obesity. Gestational diabetes affects babies' metabolisms as well.
All this data underscores the need to specifically target certain populations with anti-obesity programs.
"We need to be intentional so that our strategies address the people with the highest disease burden," said Dr. Sandy Stenmark, a pediatrician with Kaiser Permanente.
Programs build on each other
In Colorado, public health practitioners are focusing on changes to the built environment and programs to boost physical activity and bring nutritionally rich foods to schools and neighborhoods. For example, in Pueblo, the county department of health is working with retailers in "food deserts"—urban neighborhoods and rural towns that don't have access to fresh, healthy foods—to introduce apples, bananas, grapes and oranges, while Denver Public Health is building playgrounds throughout the city and working with physical education teachers to increase exercise levels in schools.
Such programs build upon each other, so that when streets become safer, walking groups emerge and activists can then talk about bringing fruits to the local grocery store.
"It's really clear that we need all hands on deck if we are going to impact health," Stenmark said.
"We're not looking for that one thing we can do," Byers said. "In fact, there are a number of things we can do, and they build on each other. Multidimensional programs reach people in lots of ways."
Videos from the symposium will be posted on the school's Center for Public Health Practice website at www.publichealthpractice.org.