STORY
Symposium to examine personalized medicine, biotech advances
First Gold Lab event of its kind to benefit experts and lay people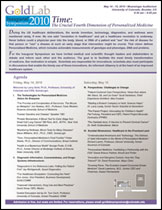 Words such as invention, technology, diagnostics and wellness were rarely mentioned during recent health care reform deliberations, but a health care revolution is under way. Physicians can peer into the body, blood or DNA of a patient and "see" a disease — or the risk for disease — early enough for crucial intervention.
Such personalized medicine and biotechnological advances are the topic of the Gold Lab Inaugural Symposium, May 14-15 at Muenzinger Auditorium at the University of Colorado at Boulder.
Medical and scientific leaders will debate a variety of topics during the free symposium, titled "Time: The Crucial Fourth Dimension of Personalized Medicine." The symposium, from 8:30 a.m. to 6 p.m. both  days, is designed to benefit both experts and lay people.
Discussion topics include the evolution toward consumer-driven medicine, the delivery of valid information and blood tests to determine many diseases.
For a complete list of presenters and topics, view the flyer here.
Seats are limited. For reservations, please e-mail goldlabsymposium@colorado.edu.